Following on from
part one
, this trash necklace tutorial uses leftover fabric and haberdashery to take the design one step further.
This time around I made two necklaces, one using scrap paper rings and one using rings made from toilet roll tubes.
Time needed: 30-90 minutes, depending on materials used
You'll need:
Scrap paper and/or toilet roll tube rings
Ribbon or cord for necklace
Greek springs with loops (optional)
A clasp (optional)
A selection of:
Leftover fabric
Ribbon
Embroidery thread
Wool
Bias binding
Trim
Anything!
2. Cover the ring frame:
For a wool or embroidery thread-wrapped ring, tie the end of a length of wool around the loop (knot on the inside). Wind the wool around the ring and tie off with another knot on the inside once the whole ring is covered.
For fabric, cut into strips first. Seal the edges if you don't want a frayed look.
For flat things such as bias binding, ribbon and strips of fabric, use a dab of glue on the end to secure to the inside of the ring. Then wrap around the ring, sticking down the other end inside the ring (you may have to trim off a little!)

To get a more decorative look, glue or tie contrasting trim or thread around the covered rings.
4. Either thread onto a length of ribbon to complete the necklace...
5. Or use thin cord: cut three lengths, longer than you want the necklace to be. Knot the ends to the length you want them and trim all but one of the ends.
6. Attach a greek spring with a loop to each of the longer ends of cord. (I needed to cut the longer piece down a lot more than I showed in the previous picture!) Add a clasp to the end.
7. Thread on your covered rings and go show off your cheaply-made but fresh 'n' funky necklace!
Had a nice email just yesterday, the long and the short of it being that my
Ancestry of Tibet necklace tutorial
has been linked to over at
All Free Beaded Jewelry
! Yay!
Featured at: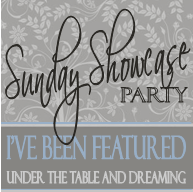 Linking up at: